opportunity to spread the news of what God is doing in Asia while raising any necessary supplemental financial support.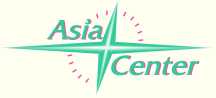 For more information contact the Asia Center:

The Global Ministry Mapping System (GMMS) from Global Mapping International (GMI) offers completely new cartographic panoramas that are appealing to serious Christians with a military mind. Now the same tools used by professionals to study demographic trends, environmental changes, trade patterns, and war fighting capabilities can be applied to the Great Commission.

GMMS integrates a database of information relevant to worldwide evangelization with powerful mapping software from Environmental Systems Research Institute (ESRI). ESRI is a world leader in producing mapping software for businesses and professionals. GMI feels the core Atlas GIS (version 4.0) software balances simplicity, power, and flexibility.

This product is simple enough for non-professional cartographers yet powerful and flexible enough to produce maps from one's own inputted data. One can be up and viewing existing maps in a few minutes, doing basic map editing in a few hours, and displaying the world in new ways with completely new maps and data in a few days. Data can also be viewed in tables and graphs without the cost and difficulty of using a database management system. Complex geographic data can be imported from a wide range of formats (including the Internet) without using external conversion programs.

In addition to 67 layers of geographic data including population, world languages, political divisions, natural features, and lines of communication, the most unusual and valuable data in the GMMS package is the ministry data which includes Bible translation needs, JESUS Film languages, gospel broadcasting, gospel recordings, status of evangelization, and deployment of missionaries.

GMMS is a high quality professional tool, and it is priced accordingly at $400.00, although discounts are available in some instances for Christian ministries.

For much less (only $30) GMI offers a CD version of Patrick Johnstone's Operation World including custom color graphs and maps from GMI on global evangelization that are great for printing or pasting into reports, overheads, and PowerPointTM presentations.

For more information contact:

Global Mapping International

15435 Gleneagle Drive, Suite 100

Colorado Springs, CO 80921

phone: 1-719-531-3599

fax: 1-719-548-7459

e-mail:

info@gmi.org

web site:

www.gmi.org

John is a quiet young man who looks very nonthreatening. In fact, John is an epileptic and needs to avoid stressful situations. Under his shirt and across his neck, however, are the scars of battle. John's father sits next to him, grateful that his son was on hand to protect his family.

In July 1999, John could hear over the telephone the desperation in his father's voice.

"You must come back to our village. There are strong rumors that the Muslims are planning to attack. Your mother and sister are very frightened."

John set off from Ambon, where he was studying, for his parents' home in Poka. Because Muslims blocked the road around the bay, he crossed it by speedboat. In Waiyama he encountered some soldiers who were Christians and explained that he was trying to reach Poka where his family was threatened. The soldiers accompanied him.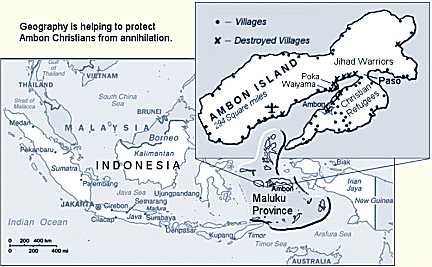 Before John could reach his parents' home, he saw a strong force of Muslim jihad warriors gathered on one of the hills above the village, preparing to attack.
John rushed to a nearby church where he found some of the auxiliary police. He felt safer now trusting that when the Muslims attacked the police could defend the church.
People believe in strange powers of protection in the South Malukus, and when the attack started, it did not surprise John or the others in the church that the leading Muslim seemed to be unaffected by police bullets.
"He seemed to have a power that diverted the bullets away from his body," John said. As the Muslims came nearer to the church, the people there began to panic. John realized that something desperate was needed. He went outside and found a machete.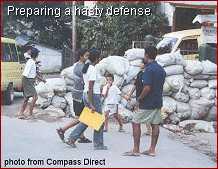 Two of the Muslims had automatic weapons. He was conscious of people running from the church behind him, but all he could think of was that this was his moment. He would die here defending God's house. The leader of the Muslims was a tall Laskar Jihad soldier called the Kapitan. He stopped, looked down at John disdainfully and said, "You are too small to fight me."
John gripped the machete in his hand and took another step forward. He believed that God would give him the strength and courage to die bravely. "Come on, then!" cried the Kapitan and lunged forward at John with his sword. Just then his foot slipped and, although he managed to cut John on the arm, this gave John the opportunity to strike. He brought his machete down on the man's head. Remembering David's battle with Goliath, John picked up the Kapitan's sword and cut the man's throat. Then he turned toward the two Muslims with the automatic weapons.
At that moment he realized he was entirely on his own. Everyone else had run away, and John was the only one facing the violent mob threatening to burn down his father's village. A haji Muslim (one who has made the pilgrimage to Mecca) attacked him, but John felled him with his machete.
John started to sing one of the hymns he had learned in church about being a soldier for God. It was his battle cry and encouraged him to go forward. He ran toward the two men with automatic weapons. They were firing but the bullets seemed to miss John. He chopped at the neck of one of the gunmen and the other tried to escape.
John realized that the strange protective power he had seen with the Kapitan was now surrounding him. It was as if the bullets could not touch him, but he felt more protected by the blood of Jesus than by any magic power. He felt his own neck where one of the Muslims had caught him. There was blood running down from a deep cut. But John could hardly feel the pain.
He set off in pursuit of the other gunman, caught up with him and struck him down with a heavy blow. The gunman fell to the ground in a heap. As the group of jihad warriors retreated, one of them tried to attack John but was fought off.
As suddenly as they had come, the Muslims had gone and the attack on Poka was over. John rushed to his father's house, exhilarated and breathless, but with an overriding sense of thankfulness to God that he had been protected. He went over the events with his parents. His father marveled that he had not had an epilepsy attack.
John's story is not isolated. Some will no doubt think of John as a brutal killer. John was doing what he felt needed to be done.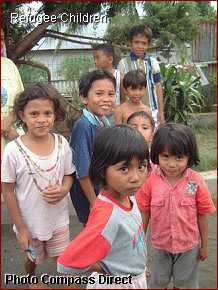 Only a few months earlier, Muslims had attacked the village of Benteng Karang where they had killed twelve people. One of those was a pregnant woman. After knocking her to the ground, the jihad warriors cut open her womb and chopped the unborn child to pieces.

Several children were also killed. They were caught by the hair, chopped with a machete or sword across the chest and thrown into the burning houses.

Rampant evil is besieging Ambon and extending to other parts of the Maluku province. Innocent women and children are being slaughtered.

John will live with the memory of his battle and of killing five men. Since this incident, Poka and many other villages have been destroyed. The people have fled to a peninsula beyond the narrow isthmus of Paso where they are refugees in their own country.

Indonesia's political instability creates an opportunity for various factions to struggle for power. Major contenders include the elected government, the military, and fundamentalist Muslims.

Since its embarrassment with the independence of East Timor, the military and national police force are forming loose alliances with radical Muslim groups who are waging jihad against Christians in Maluku.

Some of the Jihad militia leaders are believed to have had training in places like Libya and Iraq from where some funds and arms are also believed to be coming.

The press in this majority Muslim country is leaning favorably towards the Jihad which is allegedly being waged to prevent Christian areas of Indonesia, like Maluku, from seeking independence.

Police in Nepal saved the lives of Christians by arresting them and taking their van.

A musical team from an Indian church traveled to Tikapur, Nepal, to attend a church conference in October, the Indian Missions Association reported. Hours before they were scheduled to return to India, police arrested the team leader and confiscated their van.

Several officers then used the van for a personal trip to Dhan Khadi, 150 miles away. Robbers attacked the van as it traveled through a forest, the team leader said. They had expected the van to be full of Christians and were planning to kill them and take their equipment, but police jumped out of the van and shot at the robbers, forcing them to flee.

"Praise be to God who saved our lives," the leader told the Indian Mission Association. When the team leader told the Tikapur police chief that God used his arrest to protect the Christians, the chief agreed that the team was blessed and decided to release them. The pastor then preached to the police chief and other officers at the station and prayed with them.
www.HarvestLogos.com
Consider HarvestLogos.com for Holiday Shopping and All Your Bookstore Needs
web site review
The Harvest Logos On-Line Bookstore provides a convenient and secure way for you to purchase the book you need at a competitive price while simultaneously benefitting worldwide outreach, because the profits are contributed to Mission to Unreached Peoples.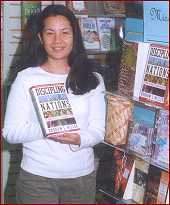 Through an affiliate relationship with Amazon.com the Harvest Logos site offers access to all of the Amazon.com selections as well as their own. Once you have selected a specific title, you are provided with the prices and shipping options from both the Harvest Logos store and Amazon.com. Then, even if you decide to buy from Amazon.com, the Harvest Logos store and ultimately Mission to Unreached Peoples still gets a portion of the sale, and there is no increase in price.
The Harvest Logos selection specializes in titles on missionary preparation, short term trips, and international development. They also offer Christian classics including the works of C.S. Lewis and some of the best Christian writings from down through the ages at deep discounts. A section called "Faith and Academia" promotes resources for integrating a biblical worldview with secular university studies.
END
The Reveille Shofar
Volume 4, Number 6 - November/December 2000
Go to NEWSLETTER BACK ISSUES
Go to ARTICLE INDEX