T R A N S C A U C A S I A
Cultural and Spiritual Landscape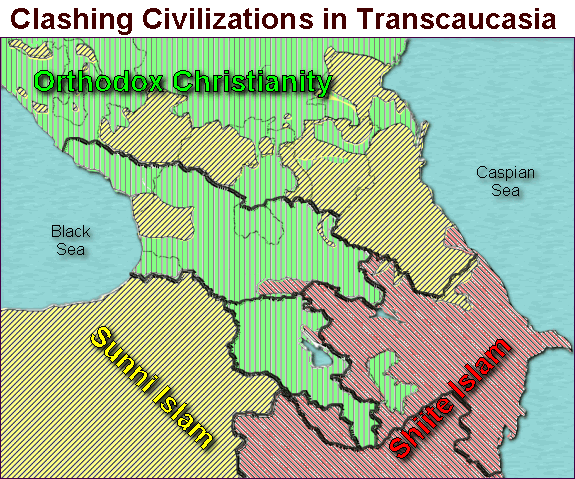 Situation Summary


Ancient Sunni Ottoman, Shiite Persian, and Orthodox Russian civilizations converge in the ethnically diverse and oil rich valleys between the Black and Caspian seas. Resulting conflicts fuel fanaticism, threaten national security, and are finally attracting American military and media attention.

Is the church going to start paying attention too? Does God prioritize preserving our lifestyle, or does he have something else in mind?

Jesus can soften hardened hearts and open closed minds that block systemic changes and lasting peace. God uses his people and orchestrates history not to preserve the American dream, but to get the gospel demonstrated and proclaimed in every nation to all people.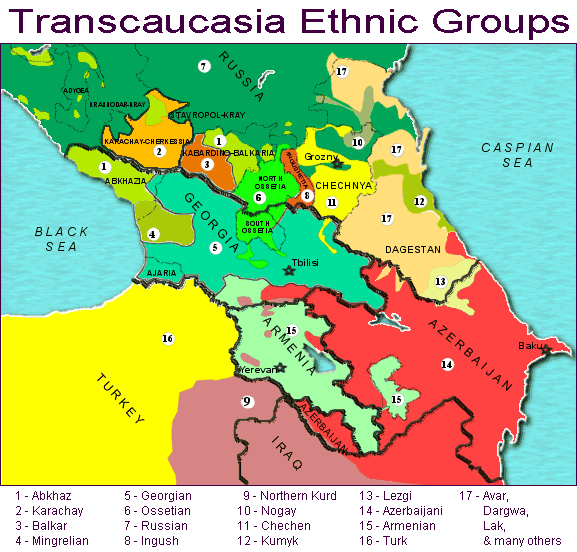 Ethnic Group Spiritual Situation Data
Ethnic
Group
Population
Percent
Non-Relig.
Percent
Christian
Percent
Muslim
Scriptures
Available
Gospel
Radio
JESUS
video
Notes
Abkhaz
810,000
17
60
23
whole Bible
yes
no
Autonomous Region in Georgia
Armenian
4,600,000
30
70
-
whole Bible
yes
yes
Armenian Orthodox, homeland is in Armenia
Avar
501,000
-
-
100
portions
no
yes
Sunni Islam, homeland is in Dagestan
Azerbaijani
6,273,000
10
-
90
whole Bible
yes
yes
70% Shiite, 30% Sunni, 10 million live in Iran
Balkar
71,000
-
-
100
New Test.
no
yes
Sunni, homeland is in Kabardino-Balkaria
Chechen
792,000
37
-
63
portions
no
no
Sunni, fighting for independent homeland
Dargwa
282,000
-
-
100
portions
no
yes
Sunni, homeland is in Dagestan
Georgian
3,479,000
18
77
5
whole Bible
yes
yes
Mostly Under Orthodox State Church
Inguish
197,000
-
-
100
portions
no
no
Sunni, homeland is in Inguishetia
Karachay
276,000
-
-
100
New Test.
no
yes
Sunni, homeland is in Karachay-Cherkessia
Kumyk
251,000
-
-
100
New Test.
no
yes
Sunni, homeland is in Dagestan
Lak
92,000
-
-
100
portions
no
yes
Sunni, homeland is in Dagestan
Lezgi
367,000
-
-
100
portions
no
no
Sunni, homeland is in Dagestan
Mingrelian
300,000
-
1
99
none
no
no
Sunni, homeland is in Georgia
Nogay
77,000
-
-
100
New Test.
no
no
Sunni, Crimean Tartar in Dagestan
Northern Kurd
102,000
1
-
99
New Test.
no
yes
mostly Shiite, also Yazidi & some Sunni
Ossetian
509,000
10
50
40
New Test.
no
yes
Orthodox & Sunni, have autonomous homeland in Georgia
Russian
8,645,000
35
65
-
whole Bible
yes
yes
mostly under Orthodox State Church